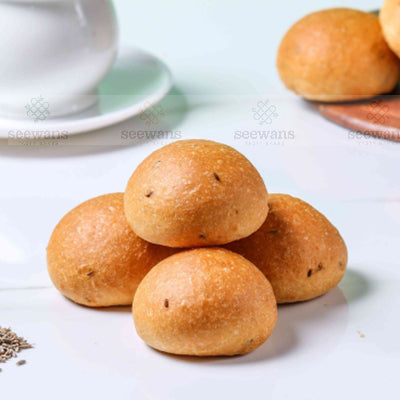 Wheat Surti sada butter
---
Brand Heritage: Baked with tradition by Seewans, formerly known as Amul Bakery, a renowned name with a baking legacy that traces back to 1976.
Origin: Surat, Gujarat, India.

Texture: Crispy and Crunchy, offering a delightful contrast to the traditional softness of butter biscuits.

Butter Content: Features a traditional recipe with a balance of butter that imparts a satisfying buttery flavor without excessive richness.

Flavorful Addition: Infused with aromatic jeera (cumin) for a touch of earthy spice.

Salty Perfection: Includes a hint of salt that complements the savory notes of jeera.

Simple and Crunchy: Made using simple ingredients, these biscuits deliver a satisfying crunch in every bite.

Local Tradition: A beloved part of local Surati culinary heritage, these biscuits have been enjoyed for decades.

Time-Tested Quality: With over four decades of baking expertise, Seewans continues to uphold the same authentic flavors and quality.

Perfect Pairing: Ideal for tea or coffee, these biscuits are a classic choice for tea-time snacking.

Surti Sada Butter Biscuits with Jeera and Salted by Seewans, previously known as Amul Bakery, represent a timeless culinary tradition that has been cherished in Surat for many years, offering a delightful crispy and crunchy experience with the aromatic touch of jeera and a hint of salt.
Surti Makhaniya Butter Biscuits 
Brand Heritage: Baked with pride by Seewans, formerly recognized as Amul Bakery, a trusted name with a baking legacy dating back to 1976.

Origin: Surat, Gujarat, India.

Texture: Incredibly soft, buttery, and crumbly in your mouth.

Butteriness: Made with generous amounts of creamy Makhaniya Butter (ghee) for a rich, buttery taste.

Sweetness: Features a subtle, enhancing sweetness.

Hint of Salt: Some variations may include a touch of salt to balance the flavors.

Ingredients: Simple, including butter, flour, sugar, and sometimes spices.

Tea-Time Classic: A favorite companion for tea or coffee.

Popular Souvenir: A sought-after souvenir for visitors to Surat, representing the city's culinary tradition.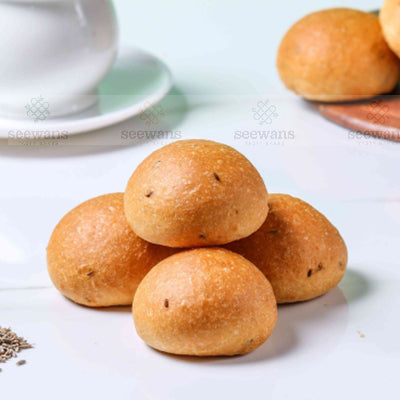 Customer Reviews
Good as always
This bakery is a slice of heaven. All the Biscuits and cookies are beautiful and delicious, and the Namkeens is fantastic.
Must try!
They are very famous for their bakery products especially the biscuits and toast. Their products are bit costly but they are always fresh and mouth-watering. One can always find pure items over here. Their service is also very good.
Awesome Taste
Ordered via Reference by a friend from Surat and really worth it. especially Pure ghee Nankhatai which i tried the very first time & that was a real hack!
Thank you!
Need more options for Diet
Delicious bakery and Namkeen items but have very limited items for diet one which can be increased. rest all i'm enjoying your Khakkhara and Wheat and Multigrain Rusk :) they are unbeatable for sure.
Seewans House ( Amul Bakery )
Opp. Santi Kunj Garden, Nr. Prime Arcade, New Rander Road, Surat - 395009. Gujarat INDIA


Email -
support@seewans.com

Phone-
+919853192000
How long will it take to get my orders?

It depends on where you are. Orders processed here will take 5-7 business days to arrive. Overseas deliveries can take anywhere from 7-16 days. Delivery details will be provided in your confirmation email.
You can contact us through our contact page or the Whatsapp button on the bottom right! We will be happy to assist you.
Our customer support is available Monday to Friday: 8am-8:30pm.
Average answer time: 2hrs